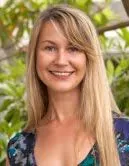 Olga Wingood,

M.A.
Marriage and Family Therapist
(949) 231-8778
PO BOX 12557
Newport Beach, CA 92658
TELEHEALTH SESSIONS ONLY
THERAPY BY Olga Wingood, M.A :
Life may be thought of as a journey with many challenges, twists, turns, and peak experiences. Therapy is a personal investment that you make in yourself. It can be a part of your life's journey where you get to know yourself intimately and begin to understand the true meaning of your life. Therapy can give you an opportunity to outgrow insecurities, discover your strengths, and become the best person that you can possibly be.
Therapy is for everyone who wants a place to learn and grow. The myths of therapy that need to be dispelled are that therapy is for "sick" or "crazy" people or that it is a sign of weakness to need or want to ask for help.
We are each born unique and special with a contribution to make. We do not come with an instruction manual on how to draw out our own humanity, enjoy the journey, and make the world a better place to live. We are born with an ideal mind in a world that is far from ideal.
Although life is not always fair and sometimes seems incomprehensible, we each have a unique opportunity and I believe a responsibility to do our part to learn how to take care of ourself and create a balanced quality life. If each of us can see that and take advantage of this opportunity, I believe that world will be a better place. This is the philosophy through which I work with individuals, couples, families and groups.
I help clients remove road blocks to their personal growth. I work with each client individually to find out what the client feels is missing in their life, and then work with them proactivly to determine what it is between them and their perfect life. I believe in the goodness of human nature and in the individual power within each person to create and maintain the life that they so desire and deserve.
Providing Counseling Services in California: Telehealth sessions only.